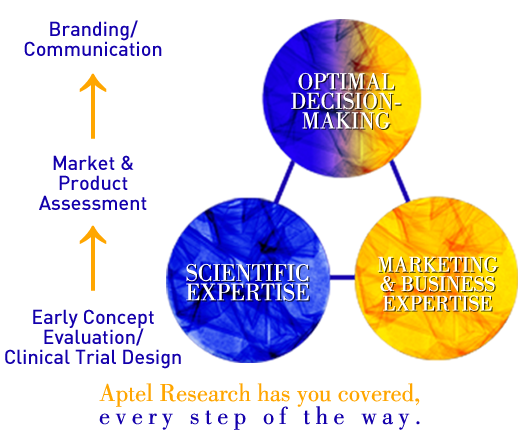 Clients come to us not only for our renowned marketing expertise, but also because we understand the complex science behind products and how patient-healthcare provider relationship impacts treatment decisions.
We have decades of experience in oncology, autoimmune diseases and myriad other pathologies, as well as business and marketing. We bring our in-depth business and scientific expertise to each phase of every project and provide superior time and cost management, earning us industry-wide respect as a value-added provider of comprehensive marketing insights. We help our clients develop products and services, which improve the lives of patients by capturing the voices of and the interactions among healthcare professionals, patients and payers.  Whether creating a pharmaceutical brand or assessing a therapeutic market, we craft a customized approach using techniques specifically geared toward your objectives.
Our customized services
With Aptel Research, you always received highly personalized attention and targeted recommendations and services specific to your unique needs and objectives. Our project management style is flexible, collaborative and controlled. We assign a senior consultant – always a skilled moderator – who personally manages your project and is always available to answer your questions in a timely manner.

"In-depth scientific and business expertise with excellent time and cost management."

− A Top 5 Global Pharmaceutical Company
"Outstanding work and impeccable attention to details."

− A Top 10 Global Pharmaceutical Company
"Great level of strategic thinking from project concept through final deliverable together with excellent customer service."

− A Mid-Size Global Biotech Company
"Superb implementation and analysis with physicians and patients across the United States and Europe."

− A Mid-Size United States Company
"Great senior moderators who always understand my objectives and and know how and when to probe to get more meaningful insights."

− A Mid-Size Biotech Company