Patients use social media to share their journey and stories of living with their condition, exchange information about different therapies, express their emotions, ask questions and provide support to others. Conversations on social media are organic and spontaneous, stemming from patients' own priorities and using their language. By analyzing this information, companies can find valuable insights into the patient journey, patient needs, brand awareness and perception.
Social Media Analysis is best used as a complement to traditional qualitative and quantitative research. It can help develop hypotheses to test in a further research or to get a snapshot of current patient sentiment and track it over time.
Social Media Insights Throughout the Product Lifecycle
Pre-Launch: Patient Journey and Unmet Needs; Product Perception; Competitive Landscape
At Launch: Brand Awareness; Early read on Patient Experience
Post-Launch: Brand tracking; Current & Future Competitor Monitoring
Aptel Research Proprietary Analytic Framework
Using a proprietary analytic framework and experienced analysts (not software), Aptel Research identifies themes within and across patient forums in order to answer key questions regarding patient experience with disease and treatment.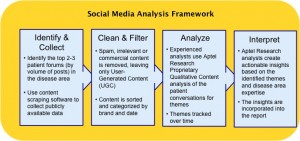 Contact us today to find out more about how social media analysis can help support your brand strategy.