Breakthroughs in the understanding of the progression of genomic events and inflammatory microenvironment that drive premalignancy provide unprecedented possibilities to transform cancer detection and prevention and ultimately reduce cancer incidence, morbidity, and mortality. Evidence for effective drugs and vaccine strategies to prevent cancer are also mounting.
Dectection
From the patients' perspective, being able to know if they have a higher risk of developing cancer has great value, as it empowers them to take steps to reduce their risk by changing their lifestyle, enhancing their screening, using prophylactic surgery or chemoprevention.  There is thus an urgent need to develop better biomarkers. They can be classified in 3 categories:
Screening biomarkers such as the BRAC tests in ovarian and breast cancer, that identify individuals at highest risk who should be evaluated further;
Diagnostic biomarkers that distinguish benign versus malignant lesions in order to minimize invasive biopsy;
Prognostic biomarkers that distinguish biologically indolent versus aggressive tumors that should be treated, and guide treatment decisions. As an example, epidermal growth factor receptor (EGFR) and anaplastic lymphoma kinase (ALK) are used in lung cancer to guide treatment decisions.
The Cancer Genome Atlas  (TCGA) project is coming to a close.  It was based on samples from more than 11,000 patients across 33 tumor types, to study the molecular changes that occur in cancer. It revolutionized the taxonomy of cancer types and subtypes, uncovering patterns across related tissue types through pan-cancer analysis. It is now enabling new investigations to better understand why some patients respond to treatment and others do not, and why some patients are cured and others relapse.
The "Pre-Cancer Genome Atlas" or "PCGA" is a new initiative that is being proposed to study the genomic transformation of normal cells into malignant cells and their microenvironment. It should enhance our ability to detect cancer early.
 Lung cancer detection
L 'expression des gènes is Maintenant used versez diagnostiquer le cancer du poumon Avec en plus de précision .  Sur la base de des différences Dans la structure de des DOMMAGES à l'ADN, les Chercheurs en Ontario Développé expression juin signature génique d' ONU génome classificateur Qui Pourrait être Les used versez testeur les cellules normales des Voies aériennes bronchiques obtenues au cours de la bronchoscopie verser detecter la Présence de Tumeurs Dans Les Poumons. ACDE Reduit La nécéssité d 'Une biopsie invasif et Le osées de complications Associées.
Autres cancers détection
Studies in breast lobular carcinoma in situ, pancreatic mucinous cysts, and Barrett esophagus have also identified genomic patterns of premalignant progression to cancer.
Prevention
The role of drugs and vaccines in cancer prevention is well established for tamoxifen and the HPV vaccine. New epidemiological data are becoming available for metformin and aspirin and might lead to new guidelines for chemoprevention.
Tamoxifen
Since its original approval in 1977 for patients with advanced breast cancer, tamoxifen, a selective estrogen receptor modulator, has been widely used in the treatment of women with breast cancer. In June 1990, FDA approved tamoxifen adjuvant use to help prevent the recurrence of cancer in "node-negative" patients. In 1998, results from the Breast Cancer Prevention Trial established that tamoxifen reduces the risk of invasive breast cancer in post-menopausal women that are at a high risk of developing breast cancer.
HPV vaccines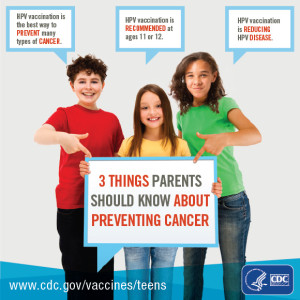 Virtually all cases of cervical cancer and 95% of anal cancers are caused by the human papillomavirus (HPV). Researchers have also confirmed that infection with HPV precedes the development of head and neck cancer. HPV also causes about 65% of vaginal cancers, 50% of vulvar cancers and 35% of penile cancers. The HPV vaccines are powerful tools to prevent the infection and thus reduce the risk for those cancers.
Metformin
Epidemiologic studies indicate that T2DM patients receiving metformin, compared to those taking other antidiabetic medications, have a decreased risk of the occurrence of various types of cancers. This observation was also confirmed by numerous meta-analyses that confirmed that metformin reduces cancer incidence by 30-50% in that population.
Aspirin
In September 2015, the US Preventive Services Task Force (USPSTF) submitted a draft recommendation for low-dose aspirin for colorectal cancer (CRC) prevention based on age and risk, a major milestone for the field of cancer prevention.