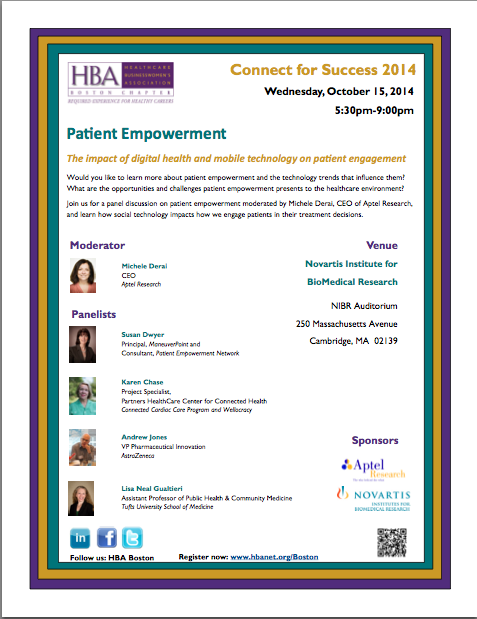 On October 15th, 2014, Aptel Research CEO Michele Derai will be moderating a panel discussion for the Boston chapter of the Healthcare Business Women's Association (HBA). The topic of the discussion is The Impact of Digital Health and Mobile Technology on Patient Engagement and will feature speakers representing the key stakeholders in healthcare. 
Susan Dwyer is a consultant for Patient Power, an organization dedicated to providing cancer patients with the resources and information they need to have the confidence, knowledge and hope to help them–or their loved one–live well with cancer. Lisa Neal Gualtieri is an assistant professor at Tufts University School of Public Health and Community Medicine, who is interested in the influence of patient empowerment on the patient-physician dialogue and on how to improve patient-physician communication around internet use. Andrew Jones contributes on the pharmaceutical side by sharing his focus on offering patient support "beyond the pill" program from AstraZeneca. AZ is now testing the efficacy of this program in combination with medication in clinical trials. And finally, from the providers' perspective, Karen Chase leads a remote monitoring Connected Cardiac Care Program at Partner's HealthCare Center for Connected Health that reduced hospital readmissions by 50%.
The event is will be held at the Novartis Center for BioMedical Research in Cambridge MA from 5:30-9pm on Wednesday October 15th.  Registration is open to HBA members and non-members. 
We hope you will join Michele for this exciting and informative event!