Recognizing that patients and physicians are generally willing to accept greater risks and side effects from treatment of life-threatening and severely debilitating diseases than they would for other diseases, the FDA established four programs: Fast Track Designation, Breakthrough Therapy Designation, Accelerated Approval, and Priority Review Designation. They are widely used in Oncology.
The chart below shows the proportion of newly approved therapeutics from 1987-2014 that were associated with three of the four FDA expedited programs, divided by therapeutic area. The priority review designation program is the most frequently used program. And, oncology therapies are at the top of the list.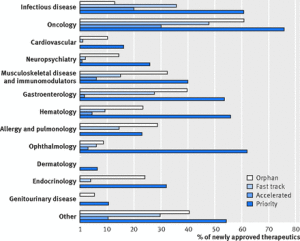 Breakthrough Therapy Designation
Enacted in 2012, it is the most recent, empowering and selective program. To qualify, the drug must be intended to treat a serious condition and preliminary clinical evidence must indicate that the drug demonstrates substantial improvement on a clinically significant endpoint(s) over available therapies.
The benefits of Breakthrough Therapy designation include: High Visibility with the FDA, highest level of FDA resources allocation, creation of project teams with FDA members and engagement of senior FDA management for hands on guidance. Alternative clinical trial designs are encouraged as well as interim analysis by a data monitoring committee, thus resulting in smaller, more efficient trials that require less time to complete and may help minimize the number of patients exposed to a potentially less efficacious treatment.
Eligibility for Priority and Rolling review, which means high FDA engagement but also high pace for CMC review, manufacturing inspection and companion diagnostic development. Only a third of the breakthrough designations applications have been granted so far, however. The main reasons for denials are clinical trial design and analysis issues and lack of substantial improvement over available therapies. In short, the key is reliable and persuasive early clinical data.
Fast track Designation
Enacted in 1997, it is an earlier and less selective version of the Breakthrough Therapy designation program. To qualify, the drug must be intended to treat a serious condition and nonclinical or clinical data must demonstrate the potential to address unmet medical need. The value to the sponsor is similar to what is available under the breakthrough program, although the FDA investment in time and resources is less.
Accelerated Approval Designation
It is the oldest program, enacted in 1992 and amended in 1999. To qualify, the drug must treat a serious condition and generally provide a meaningful advantage over available therapies and demonstrates an effect on a surrogate endpoint that is reasonably likely to predict clinical benefit or on a clinical endpoint that can be measured earlier than irreversible morbidity or mortality (IMM). Drugs granted accelerated approval need to undergo post marketing confirmatory trials to verify and describe the anticipated effect on IMM or other clinical benefits. They also may be approved with restrictions on their use and distribution.
Priority review
It was established in 1992 in order to allow increased FDA attention and allocation of more resources to the evaluation of significant drugs. A priority review designation means FDA's goal is to take action on the marketing application within 6 months of receipt (compared with 10 months under standard review). Under rolling review, a drug company can submit completed sections of its Application for review rather than waiting until the entire Application is ready, further reducing these timelines. Novartis' imatinib (Gleevec) for CML holds the record with 2.5 months.
Downside
Patients and Sponsors benefit from the FDA expedited development and review program, with quicker access to new treatments and earlier launch dates. However as illustrated in ponatinib (Iclusig, Ariad Pharmaceuticals) and gefitinib (AstraZeneca's Irissa), suspension or even withdrawal of initial approval and labeling changes are more likely, as new data becomes available.