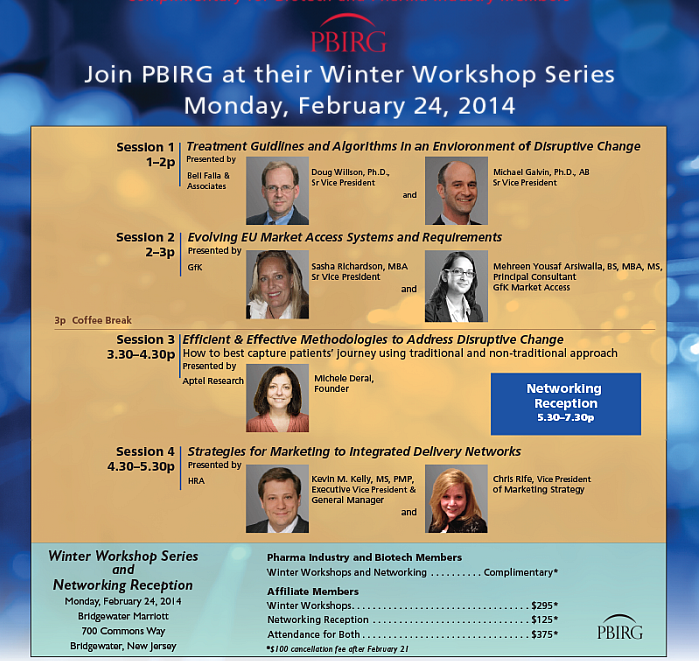 Michele Derai, CEO of Aptel Research, will be conducting a workshop on Patient Empowerment at PBIRG 2014 Winter Educational Workshop. The workshop will focus on how Patient Empowerment is impacting the pharmaceutical industry and its effect on marketing/market research.
Workshop Description:
More than ever before, patients have increased influence and power over healthcare decisions, including prescribing choices. Given this shift in power, it is critical for healthcare organizations to better understand the patient experience, and decision drivers on both rational but also emotional levels. In an environment with an over abundance of information, healthcare companies need to communicate clearly the benefit of their products and services and favor individual preferences rather than one-size-fits-all offering. However, traditional qualitative in-depth interview methodology is time consuming and expensive in an industry which demands quick turn around and cost containment.
In order to address these issues while also providing sound insights on the patient journey, we have developed a unique methodology. Our approach combines a mix of qualitative interviews, quantitative surveys using projective technique to elicit emotions and analysis of social media to help healthcare companies understand patients' emotional journey for specific chronic diseases.
Learning objectives
Gain insights into how to apply a qualitative approach into a quantitative survey
Appreciate the use of social media to understand patients' experience with diseases and therapies
Review of a case study about RA patient journey